19 May

Home Care in Menlo Park

Posted at 03:58h

in

alzheimer care

,

alzheimer care, home care for seniors bay areas

,

alzheimer care, home care for seniors san carlos, menlo park

,

home care

,

home care for seniors

,

senior care help

,

senior care help san carlos, menlo park CA

,

senior care servic

,

senior care services

,

senior health care

,

senior home care agency

,

senior home care agency san carlos, menlo park CA

0 Comments
Quality home care company for elderly: The Best Caregivers in Menlo Park
Reliable Home Care Services available. Quality Caregivers and Home Health Care for Seniors. Please call us at 650-627-8318 or go to our web, http://www.oneononeseniorcare.com . We are LOCAL. Live in or Live out. References Available and US Veteran owned.
Home Care Services for San Mateo County and the San Francisco Bay Area.
Receive affordable, high-quality Senior Care in the comfort of your home.
Providing home care services for seniors, hospice care at home, Alzheimer's care, cancer patient care, dementia patient care, and more for individuals in the Bay Area.
One on one senior care is dedicated to providing our clients with high-quality home care services that provide lasting benefits for clients and their families. Studies have shown that home care services from a licensed home health care agency can allow individuals to stay living at home longer, minimize hospital visits, and delay institutionalization. Plus, visits from our highly trained home health caregivers can provide several hours of valuable respite to family members who are providing full-time care to their loved one.
In-Home Health Care Services Provided For:
Care Following Skilled Nursing Discharge
Diabetic Home Care
Home Health Caregiver
Hospice Care At Home
Home Care for Chronic Kidney Disease
Senior and Elder Care
Are you in need of care for a different situation than listed above? Please give us a call or send us a message and we will do our best to assist you.
Home Care Services That Work
We strive to provide our clients with home care services that will help to improve their quality of life and keep them at-home longer. This is why we work with a team of professional home caregivers in the San Francisco Bay and San Mateo County areas who are trained to handle the unique needs of our clients. Our in-home care can be more cost-effective than risking additional hospitalization or admission to assisted living or skilled nursing facilities. We offer flexible scheduling for in-home care services, ranging from four hours of care to 24-hours with a full-time live-in caregiver. Give us a call to get started (650) 627-8318.
Popular Home Care Services
Meal Planning and Cooking
Bathing, Dressing and Grooming
Light Housekeeping and Laundry
Transportation and Errands
Medication Monitoring and Incontinence Care
Recovery from Illness or Surgery
Walking and Mobility
Companionship and Support
Respite/Relief for Families
About Our Home Caregivers
All of our caregivers are local to the San Mateo County and San Francisco Bay Area. Our home caregivers are dedicated to providing high-quality home care services while ensuring clients continue to live independently.
Our certified home caregivers provide exceptional care while adhering to the Professional Association of Caregivers Code of Ethics:
I will always treat my clients with kindness and respect.
I will always arrive at the client's home on time, preferably 5 minutes before the start of my scheduled hours. If I might be late, I will immediately call.
I will follow the Plan of Care each day for my client.
I will maintain a clean and organized home for my client.
I will never leave my client unattended. If the relief caregiver is late I will immediately call the Care Manager.
I will address my client by their last name unless they invite me to use their first name.
I will honor the client's right to privacy and confidentiality, including their identity, address, and telephone number.
I will keep my religious beliefs, political choices, or personal issues private and likewise respect my client's beliefs.
I will call 911 immediately when there is a medical emergency and then call my senior care company office or Care Manager.
I will not engage in financial transactions nor intimate relationships with a client or family member.
I will never use alcohol or illegal drugs as a professional caregiver.
I will only use my personal mobile phone for calls and texts during rest or break periods.
Consider Home Care Services For Seniors As An Alternative to Senior Care Facilities
One on One Senior Care believes that the best care is provided one-on-one with the client. We are proud to offer our clients the opportunity to remain at home while receiving the care they need. We find that our clients feel more comfortable staying in their own homes when situations allow it. Plus, they can stay more consistently on their preferred schedule and receive calls and visits from family as they are accustomed. We work with clients in a large variety of health situations and living circumstances. Whether you are looking for assistance while recovering from the hospital, in need of ongoing in-home care, or looking for assistance with daily activities, we have the perfect One on One home health care plan for you or a loved one. Contact us today and maintain your independence.
CONTACT US
People in our community are saying wonderful things about One On One Senior Care!
Susan Patterson, RN Nurse for 30+ years
Thank you for the BEST Caregiver for our DIABETIC Mother in San Mateo. We went through over 10 caregivers until we found a Caregiver with One On One Senior Care, and their experience with diabetic patients is second to none… Our mother's blood sugar stabilized within 2 years, and the leg wound that did not heal for 5 years is now healed and she is almost back to normal.. Now, we only check her blood sugar 1 once a week. Thank you!
Father O'Brien, San Mateo
One of my parishioners, Ella, was placed in a hospice when her heart began to fail after having triple bypass surgery. I visited her weekly to pray but her spirits were low and it did not look as if she would make it much longer. Her family then called ONE ON ONE and Ella was paired with a caregiver named Maria. After a year and a half, Ella has completely recovered and is doing well. I am now referring my ailing aunt to ONE ON ONE's services!
Eli Smith
My ONE ON ONE in-home caregiver is kind, patient, compassionate, a wonderful cook, and so much more. If I am ever ill and in the need of someone to help me, I know I am in good hands. I can be independent in my own home and not have to worry about relying on my daughter for aid.
Kelly Meyers of Burlingame, California
Thank you for taking care of our DAD with KIDNEY failure and so thankful of his recovery that he did not have to go through a kidney dialysis, and his health is almost back to normal.
Nick, Julie, and Kathleen of Burlingame
Your team of caregivers are doing such a good job! Paula is a great, great caregiver along with Cathy. Thanks for the excellent service that you and your team of in-home caregivers have provided.
Mark, Allison, and Samantha
Thanks for the excellent service that both of your in-home caregivers have given our elderly parents! My parents have been happier and healthier now that they have someone who acts not only as a caregiver, but as a friend as well."
Home Care Services For Seniors Service Areas
Los Altos, California
Menlo Park, California
Palo Alto, California
Portola Valley, California
West Menlo Park, California
Woodside, California
Santa Clara County, California
Alameda County, California
San Jose, California
Contra Costa County, California
San Francisco, California
San Francisco County, California
Solano County, California
Oakland, California
Sonoma County, California
Fremont, California
Marin County, California
Santa Rosa, California
Hayward, California
Sunnyvale, California
Concord, California
Santa Clara, California
Vallejo, California
Berkeley, California
Napa County, California
Fairfield, California
Richmond, California
Antioch, California
Daly City, California
Vacaville, California
San Leandro, California
Livermore, California
Napa, California
Redwood City, California
Redwood City, California
Mountain View, California
Alameda, California
San Ramon, California
Pleasanton, California
Union City, California
Milpitas, California
Walnut Creek, California
South San Francisco, California
Pittsburg, California
Cupertino, California
Petaluma, California
San Rafael, California
Novato, California
Brentwood, California
Gilroy, California
Dublin, California
Newark, California
Danville, California
San Bruno, California
Rohnert Park, California
Campbell, California
Morgan Hill, California
Pacifica, California
Martinez, California
Oakley, California
Pleasant Hill, California
Foster City, California
Saratoga, California
Los Gatos, California
San Pablo, California
San Carlos, California
Suisun City, California
Benicia, California
Windsor, California
Belmont, California
Hercules, California
Lafayette, California
El Cerrito, California
Millbrae, California
American Canyon, California
Albany, California
Pinole, California
Dixon, California
Orinda, California
Moraga, California
North Fair Oaks, California
Mill Valley, California
San Anselmo, California
Larkspur, California
Half Moon Bay, California
Healdsburg, California
Clayton, California
Piedmont, California
Sonoma, California
Emeryville, California
Corte Madera, Californiahome health aide
comfort of their own home
family members
family caregivers
home care provider
meal preparation
older adults
home care agencies
daily activities
respite care
peace of mind
home caregivers
companion care
exceptional care
home health care
great place
compassionate care
privacy policy
custom care plans
light housekeeping
quality of life
obligation consultations
medical home care services
local office
hospice care
chronic illness
office staff
national origin
proper care
home care agency
difficult time
best care
medication reminders
great job
free consultation
care teams
social worker
chronic disease
great caregivers
personal preferences
home attendant
senior advisors
personal care aides
personal care services
senior care provider
alzheimer's care
home care services range
hospice services
assisted living facility
dementia care
sexual orientation
long distance
amazing company
emergency response
synergy homecare
medical assistance
physical therapy
primary caregiver
health care providers
high standards
better care
comfort of your own home
home care assessment
extra help
highest priority
safety of our clients
little help
elder care
home care assistance
step of the way
helping hand
local laws
highest quality care
wonderful experience
comfort of home
home evaluation
terms of use
trusted relationship
work institute
senior care services
Home Care Services
Home care makes aging in place possible for millions of seniors every year. Instead of moving to an assisted living facility or a nursing home, seniors can continue living where they feel happiest and most comfortable — their home.
No one understands the importance of senior care like we do at Visiting Angels®. As one of the country's most trusted home care agencies in the country, we make senior care possible for older adults across the U.S. Our in-home care services for the elderly make daily living safer and more enjoyable, allowing seniors to spend their golden years in the comfort of home.
Our elder care offers valuable support to families. Visiting Angels makes it easier to care for aging loved ones, helping families to spend more quality time together. At the same time, we provide much-needed respite for family caregivers, reducing their risk of caregiver burnout.
Learn more how we provide the best care at home for seniors.
Articles of Interest

10 Strategies and Tips for Long-Distance Caregiving

Why Mom or Dad Could Use Seasonal Home Care

How In-Home Care Providers Can Prevent Hypothermia in Seniors

Flu Becomes Widespread: We Protect Seniors with "Fight the Flu Kits"

We're Here For You — Contact Us Today!
» Call 800-365-4189 or fill out the form below.
CELL PHONE
Your Contact Preference:
EMAILPHONETEXTNO PREFERENCE
When Would You Like Care To Begin?
IMMEDIATELYWITHIN 2 WEEKSWITHIN 4 WEEKSWITHIN 8 WEEKS
How Did You Hear About Us?
Please select
Aging Care
Alzheimer's Association
Alzheimer's Foundation
Area Dept on Aging
Bing
Doctor/Nurse/Hospital
Facebook
Former Client
Friend/Family/Word of Mouth
Google
Hospice/Home Health Agency
My Insurance
Newspaper
Newspaper Article
Online Advertisement
Other
Radio – Ave Maria
Radio – Beacon
Radio – Fox News
Radio – NPR
Radio – Other
Radio – Pandora/Online
Radio – Sacred Heart Radio
Rehab/Nursing Home
Social Worker
TV – A&E
TV – AMC
TV – Antenna TV
TV – Aspire
TV – BET Her
TV – Bravo
TV – Cleo
TV – CMT
TV – Comedy.TV
TV – Cooking Channel
TV – Court TV
TV – Cozi
TV – Crime & Investigation
TV – Decades
TV – Destination America
TV – Discovery Channel
TV – Discovery Family
TV – Discovery Life
TV – E!
TV – Food Network
TV – Fox & Friends
TV – Fox Business
TV – Fox News
TV – FYI
TV – Game Show Network
TV – Golf Channel
TV – Great American Country
TV – Hallmark
TV – Hallmark Movies Mysteries
TV – History Channel
TV – IFC
TV – Justice Central
TV – LAFF
TV – Lifetime Movies
TV – Lifetime Real Women
TV – ME TV
TV – Movies!
TV – MTV Classic
TV – Nat Geo Wild
TV – Online Streaming Service
TV – Other
TV – OWN
TV – Oxygen
TV – POP
TV – Reelz
TV – Rewind TV
TV – The Country Network
TV – The Weather Channel
TV – This TV
TV – TLC
TV – USA
TV – WE TV
TV – WGN
Vehicle (Wrapped)
Veteran's Association
Yahoo
Yellow Pages

Home Care for Seniors
Choosing the right type of home care will ensure your loved one's comfort and improve their quality of life. But if you're unfamiliar with the different types of home care, deciding between them can be confusing.
The good news? Selecting the right home care service is simpler than you might expect. Here are some options offered: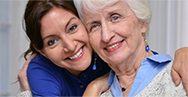 Companion Care
For most seniors, companion care provides the support they need for a wide range of basic caregiving tasks, including light housekeeping, help with errands, and meal preparation. This makes it a perfect choice for anyone who needs assistance to live at home safely, but who doesn't require advanced assistance.

More About Companion Care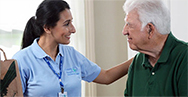 Personal Care
If your loved one has advanced care needs, then personal care could be the right choice. Personal care includes basic caregiving duties of companion care, but it also helps with tasks such as grooming, dressing, bathing, and mobility. Personal care can also provide essential care to individuals with chronic conditions, such as diabetes, COPD, or Parkinson's.

More About Personal Care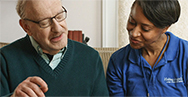 Respite Care
Are you the primary caregiver for an aging or disabled family member? If so, respite care could be the best option. Respite care helps family caregivers pursue other activities, attend urgent obligations, and spend more time with family. Most importantly, it gives them time they can devote to self-care, reducing the risk of caregiver burnout.

More About Respite Care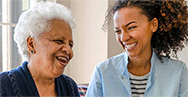 Specialized Home Care
We offer specialized home care services through our Life Care Navigation program. If your loved one needs distinct care, we will combine these specialized services with our traditional home care to develop a personalized plan.

Alzheimer's Care

Dementia Care

Hospital-to-home Transitional Care
Senior Care That Is Personalized
At Visiting Angels, our goal is simple. We want to make senior care as comfortable and enjoyable for loved ones who want to age in place. At the same time, we want to make home care services for the elderly as easy and stress-free as possible for families.
Our approach to senior care starts with a custom care plan for every client. Your local Visiting Angels home care agency will personalize a comprehensive care plan to your loved one's unique needs and living conditions. This way, we provide support exactly where it's needed.
When coordinating care, we work closely with families each step of the way. Once care starts, we remain in close contact with family members to keep them up to date. As your loved one's needs evolve, we'll work with you to make sure they continue receiving the care they need.
Home Care Assistance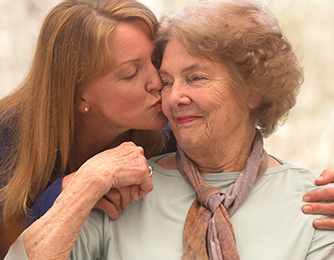 With Visiting Angels, it's easy to get started with senior care services.
Your local Visiting Angels agency will schedule a free consultation to begin the process. We'll learn about your loved one's needs, living conditions, and personal preferences. We'll use this information to build a framework for your loved one's care plan.
As we develop your loved one's plan, we consider a wide range of factors. Our home care assistance recommendations include your loved one's personal routine, while also developing a schedule that fits comfortably within your budget. Our home care agencies also work with doctors, nurses, and other health care providers to ensure our care plans align with medical directives.
The final step is to match your loved one with a caregiver (or caregivers). At Visiting Angels, we pride ourselves on the compassion, dedication, and experience of our home care providers. We know how crucial the relationship between caregivers and seniors can be. Because of this, we strive to find the perfect fit for every client.
professional caregivers
activities of daily living
Tiburon, California
Cloverdale, California
Los Altos Hills, California
Fairfax, California
Sebastopol, California
Rio Vista, California
Cotati, California
Sausalito, California
St. Helena, California
El Granada, California
Calistoga, California
Brisbane, California
Emerald Lake Hills, California
Broadmoor, California
Highlands-Baywood Park, California
Monte Sereno, California
Moss Beach, California
Yountville, California
Montara, California
Ross, California
Belvedere, California
Colma, California
Ladera, California
La Honda, California
Pescadero, California
Loma Mar, California