Home care agency for seniors – Alzheimers & Dementia Caregiver San Mateo CA
Home Care for San Mateo Senior – elder care service, senior care.
Please call us: Phone: 650‑627‑8318. We are Local and References available. US Veteran Owned.
Hillsborough, Atherton – home care agency for seniors, Alzheimers & Dementia care
Alzheimers Caregiver – San Mateo, Presidio heights CA- home care for seniors
An Alternative to Senior Care Facilities
The aging process is an inevitable and often difficult part of life. Changes in the mind and body can create new and difficult challenges for both the person experiencing them and their loved ones. Many times, the solution is to enter a home or facility where care is administered to several seniors by understaffed nurses. Whether you are going home from the hospital with continuing health care needs or simply need support with your daily activities, having the One on One Senior Care you need may be your next step to recovery and independence.
We Provide a FULL RANGE of In-Home Care Services
Our Services in One on One Senior care San Mateo CA
We offer real solutions for seniors and anyone else who needs affordable and professional in-home care. In most cases, costs are reduced when compared to long-term hospitalization or other nursing facilities. Assignments can range from 4 hours to 24 hour live-in positions. Our Service areas : San Mateo, Burlingame, Atherton, Hillsborough, San Francisco, San Carlos, Menlo Park, Woodside, Belmont, Bay area. If you have any questions please feel free to call me.
Hillsborough, Atherton – home care agency for seniors, Alzheimers & Dementia care -home care for seniors
our Personal Home Health Care Service for Seniors
and Elderly Assistance in San Mateo, CA
One on One Senior care San Mateo CA is devoted to providing professional, quality care to seniors in the San Mateo CA area 24 hours a day, 7 days per week like your own homes.One on One Senior care San Mateo CA makes an effort to maintain our clients' independence, dignity while supplying them with support and needed care. Our friendly and professional staff members undergo accurate screening, personalized interviews, prior to their hire.
home care for seniors, home care agency for seniors, Alzheimers & Dementia care San Mateo CA
Caregiver, home care for seniors San Mateo CA
Senior helpers Health service – in home care assistance in San Mateo, Burlingame CA
Please call us: Phone: 650‑627‑8318
One on One Senior Care is an in-Home Care Service committed to providing quality care with exceptional caregivers. Our team of dedicated professional, experienced caregivers include a 30-year RN Nurse consultant and in-home senior caregivers that will establish a home care plan to help you recover and gain independence in the comfort and privacy of your own home. Our services: Alzheimers care, home care for seniors, senior home care agency, senior care service, senior care help.
Meal Preparation and Cooking
Bathing, Dressing and Grooming
Light Housekeeping and Laundry
Transportation and Errands
Medication Monitoring and Incontinence Care
Recovery from Illness or Surgery
Companionship and Support
Home Care Services for San Mateo County and the San Francisco Bay Area.
Receive affordable, high-quality Senior Care in the comfort of your home.
Providing home care services for seniors, hospice care at home, Alzheimer's care, cancer patient care, dementia patient care, and more for individuals in the Bay Area.
One on one senior care is dedicated to providing our clients with high-quality home care services that provide lasting benefits for clients and their families. Studies have shown that home care services from a licensed home health care agency can allow individuals to stay living at home longer, minimize hospital visits, and delay institutionalization. Plus, visits from our highly trained home health caregivers can provide several hours of valuable respite to family members who are providing full-time care to their loved one.
In-Home Health Care Services Provided For:
Care Following Skilled Nursing Discharge
Diabetic Home Care
Home Health Caregiver
Hospice Care At Home
Home Care for Chronic Kidney Disease
Senior and Elder Care
Are you in need of care for a different situation than listed above? Please give us a call or send us a message and we will do our best to assist you.
Home Care Services That Work
We strive to provide our clients with home care services that will help to improve their quality of life and keep them at-home longer. This is why we work with a team of professional home caregivers in the San Francisco Bay and San Mateo County areas who are trained to handle the unique needs of our clients. Our in-home care can be more cost-effective than risking additional hospitalization or admission to assisted living or skilled nursing facilities. We offer flexible scheduling for in-home care services, ranging from four hours of care to 24-hours with a full-time live-in caregiver. Give us a call to get started (650) 627-8318.
Popular Home Care Services
Meal Planning and Cooking
Bathing, Dressing and Grooming
Light Housekeeping and Laundry
Transportation and Errands
Medication Monitoring and Incontinence Care
Recovery from Illness or Surgery
Walking and Mobility
Companionship and Support
Respite/Relief for Families
About Our Home Caregivers
All of our caregivers are local to the San Mateo County and San Francisco Bay Area. Our home caregivers are dedicated to providing high-quality home care services while ensuring clients continue to live independently.
Our certified home caregivers provide exceptional care while adhering to the Professional Association of Caregivers Code of Ethics:
I will always treat my clients with kindness and respect.
I will always arrive at the client's home on time, preferably 5 minutes before the start of my scheduled hours. If I might be late, I will immediately call.
I will follow the Plan of Care each day for my client.
I will maintain a clean and organized home for my client.
I will never leave my client unattended. If the relief caregiver is late I will immediately call the Care Manager.
I will address my client by their last name unless they invite me to use their first name.
I will honor the client's right to privacy and confidentiality, including their identity, address, and telephone number.
I will keep my religious beliefs, political choices, or personal issues private and likewise respect my client's beliefs.
I will call 911 immediately when there is a medical emergency and then call my senior care company office or Care Manager.
I will not engage in financial transactions nor intimate relationships with a client or family member.
I will never use alcohol or illegal drugs as a professional caregiver.
I will only use my personal mobile phone for calls and texts during rest or break periods.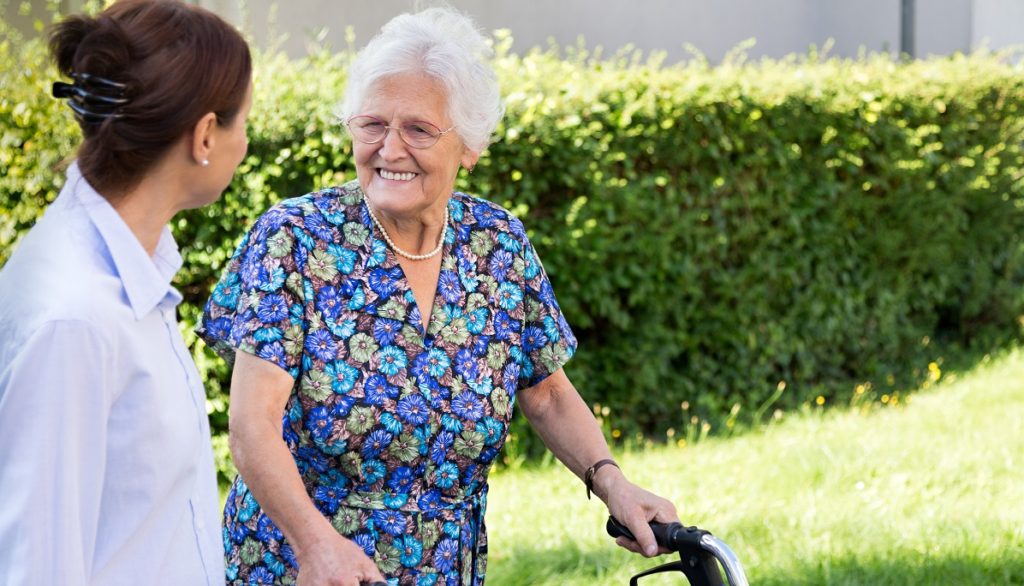 Consider Home Care Services For Seniors As An Alternative to Senior Care Facilities
One on One Senior Care believes that the best care is provided one-on-one with the client. We are proud to offer our clients the opportunity to remain at home while receiving the care they need. We find that our clients feel more comfortable staying in their own homes when situations allow it. Plus, they can stay more consistently on their preferred schedule and receive calls and visits from family as they are accustomed. We work with clients in a large variety of health situations and living circumstances. Whether you are looking for assistance while recovering from the hospital, in need of ongoing in-home care, or looking for assistance with daily activities, we have the perfect One on One home health care plan for you or a loved one. Contact us today and maintain your independence.
CONTACT US
People in our community are saying wonderful things about One On One Senior Care!
Susan Patterson, RN Nurse for 30+ years
Thank you for the BEST Caregiver for our DIABETIC Mother in San Mateo. We went through over 10 caregivers until we found a Caregiver with One On One Senior Care, and their experience with diabetic patients is second to none… Our mother's blood sugar stabilized within 2 years, and the leg wound that did not heal for 5 years is now healed and she is almost back to normal.. Now, we only check her blood sugar 1 once a week. Thank you!
Father O'Brien, San Mateo
One of my parishioners, Ella, was placed in a hospice when her heart began to fail after having triple bypass surgery. I visited her weekly to pray but her spirits were low and it did not look as if she would make it much longer. Her family then called ONE ON ONE and Ella was paired with a caregiver named Maria. After a year and a half, Ella has completely recovered and is doing well. I am now referring my ailing aunt to ONE ON ONE's services!
Eli Smith
My ONE ON ONE in-home caregiver is kind, patient, compassionate, a wonderful cook, and so much more. If I am ever ill and in the need of someone to help me, I know I am in good hands. I can be independent in my own home and not have to worry about relying on my daughter for aid.
Kelly Meyers of Burlingame, California
Thank you for taking care of our DAD with KIDNEY failure and so thankful of his recovery that he did not have to go through a kidney dialysis, and his health is almost back to normal.
Nick, Julie, and Kathleen of Burlingame
Your team of caregivers are doing such a good job! Paula is a great, great caregiver along with Cathy. Thanks for the excellent service that you and your team of in-home caregivers have provided.
Mark, Allison, and Samantha
Thanks for the excellent service that both of your in-home caregivers have given our elderly parents! My parents have been happier and healthier now that they have someone who acts not only as a caregiver, but as a friend as well."
Home Care Services For Seniors Service Areas
Los Altos, California
Menlo Park, California
Palo Alto, California
Portola Valley, California
West Menlo Park, California
Woodside, California
Santa Clara County, California
Alameda County, California
San Jose, California
Contra Costa County, California
San Francisco, California
San Francisco County, California
Solano County, California
Oakland, California
Sonoma County, California
Fremont, California
Marin County, California
Santa Rosa, California
Hayward, California
Sunnyvale, California
Concord, California
Santa Clara, California
Vallejo, California
Berkeley, California
Napa County, California
Fairfield, California
Richmond, California
Antioch, California
Daly City, California
Vacaville, California
San Leandro, California
Livermore, California
Napa, California
Redwood City, California
Redwood City, California
Mountain View, California
Alameda, California
San Ramon, California
Pleasanton, California
Union City, California
Milpitas, California
Walnut Creek, California
South San Francisco, California
Pittsburg, California
Cupertino, California
Petaluma, California
San Rafael, California
Novato, California
Brentwood, California
Gilroy, California
Dublin, California
Newark, California
Danville, California
San Bruno, California
Rohnert Park, California
Campbell, California
Morgan Hill, California
Pacifica, California
Martinez, California
Oakley, California
Pleasant Hill, California
Foster City, California
Saratoga, California
Los Gatos, California
San Pablo, California
San Carlos, California
Suisun City, California
Benicia, California
Windsor, California
Belmont, California
Hercules, California
Lafayette, California
El Cerrito, California
Millbrae, California
American Canyon, California
Albany, California
Pinole, California
Dixon, California
Orinda, California
Moraga, California
North Fair Oaks, California
Mill Valley, California
San Anselmo, California
Larkspur, California
Half Moon Bay, California
Healdsburg, California
Clayton, California
Piedmont, California
Sonoma, California
Emeryville, California
Corte Madera, California
Tiburon, California
Cloverdale, California
Los Altos Hills, California
Fairfax, California
Sebastopol, California
Rio Vista, California
Cotati, California
Sausalito, California
St. Helena, California
El Granada, California
Calistoga, California
Brisbane, California
Emerald Lake Hills, California
Broadmoor, California
Highlands-Baywood Park, California
Monte Sereno, California
Moss Beach, California
Yountville, California
Montara, California
Ross, California
Belvedere, California
Colma, California
Ladera, California
La Honda, California
Pescadero, California
Loma Mar, California
HomeServicesCaregiversAbout UsAdvantagesTestimonialsContact Us
Copyright © 2022One On One Senior Care
Welcome to Oneononeseniorcare for the Elderly!
Since 2004 Oneononeseniorcare.com for the Elderly has provided assistance and support to seniors in San Mateo, Burlingame and the San Francisco area. We provide trustworthy and devoted care for seniors to promote their independence, dignity and self-worth. Our non-profit services and companionship help guide seniors to wellness and happiness. We want to contribute to longer, healthier, more purposeful lives for seniors.
Contact Oneononeseniorcare.com for the Elderly for Adult Day Care, Assisted Living, Assisted Living Facilities, Caregivers, Caregiving, Commercial Cleaning Services, Elder Care Services, Elderly Care, Home Care Assistance, Home Health Care, Hospice Care, House Cleaning Services, Housekeeping Jobs, In-Home Care, Independent Living, Job Training Programs, Senior Care, Senior Housing, and Social Services. Proudly supporting the areas of Chinatown, Daly City, Marina District, Mission District, Nob Hill, Noe Valley, Oakland, Pacific Heights, Richmond District, San Francisco, San Jose, San Mateo, Sunset District, and surrounding areas.
GET IN TOUCH TODAY FOR MORE INFORMATION
Contact Oneononeseniorcare.com for the Elderly for Adult Day Care in San Mateo, Assisted Living in San Mateo, Assisted Living Facilities in San Mateo, Caregivers in San Mateo, Caregiving in San Mateo, Commercial Cleaning Services in San Mateo, Elder Care Services in San Mateo, Elderly Care in San Mateo, Home Care Assistance in San Mateo, Home Health Care in San Mateo, Hospice Care in San Mateo, House Cleaning Services in San Mateo, Housekeeping Jobs in San Mateo, In-Home Care in San Mateo, Independent Living in San Mateo, Job Training Programs in San Mateo, Senior Care in San Mateo, Senior Housing in San Mateo, Social Services in San Mateo, and in surrounding areas.
Below is some general information about San Mateo:
San Mateo is a city in San Mateo County, California in the high-tech enclave of Silicon Valley in the San Francisco Bay Area. With a population of 97,207 as of the 2010 census, it is one of the larger suburbs on the San Francisco Peninsula, located between Burlingame to the north, Foster City to the east, Belmont to the south, and Highlands-Baywood Park and Hillsborough to the west. San Mateo was incorporated in 1894.
Originally part of the Rancho de las Pulgas and the Rancho San Mateo, the earliest recorded history is in the archives of Mission Dolores. It indicates in 1789 the Missionaries had named a Native American village along Laurel Creek Los Laureles or the Laurels (Mission Dolores, 1789). An 1835 sketch map of the Rancho refers to the creek as arroyo de los Laureles, but by now most of the Laurels have vanished. Coyote Point was an early recorded feature of San Mateo in 1810. Beginning in the 1850s some wealthy San Franciscans began looking for summer or permanent homes in the milder mid-peninsula. While most of this early settlement occurred in adjacent Hillsborough and Burlingame, a number of historically important mansions and buildings trickled over into San Mateo. A.P. Giannini, founder of the Bank of Italy, lived here most of his life. His mansion, Seven Oaks, currently in disrepair and listed in the National Register of Historic Places, is located at 20 El Cerrito Drive. In 1858 Sun Water Station, a stage station of the Butterfield Overland Mail route was established in San Mateo. It was located 9 miles south of Clarks Station in what is now San Bruno and 9 miles north of the next station at Redwood City. The Howard Estate was built in 1859 on the hill accessed by Crystal Springs Road. The Parrott Estate was erected in 1860 in the same area, giving rise to two conflicting names for the hill, Howard Hill and Parrot Hill. After substantial use of the automobile by about 1935, neither name was commonly applied to that hill. The Borel estate was developed near Borel Creek in 1874, with present uses being modern offices and shops; the property is still managed and owned by Borel Place Associates and the Borel Estate Company. The Eugene J. De Sabla Japanese Teahouse and Garden was established in 1894 at 70 De Sabla Road, designed by Makoto Hagiwara, designer of the Japanese garden in Golden Gate Park. The parcel was purchased in 1988 by San Francisco businessman Achille Paladini and wife Joan, who restored it. It features hundreds of varieties of plants and several rare trees. A large Koi pond surrounds an island. Its teahouse was built by Japanese artisans brought primarily for its construction. It was placed on the National Register of Historic Places in 1992. "Hayward Park," the extraordinary 1880 American Queen Anne style residence of silver and banking millionaire Alvinza Hayward, was built on an 800-acre estate in San Mateo. The property, which included a deer park and racetrack, was converted into a hotel after Hayward's death in 1904.
San Mateo is considered to have one of the larger, well developed, more prominent suburban downtowns in the San Francisco Bay Area. It is located roughly between Tilton and 9th streets and Delaware Avenue and El Camino Real The downtown core contains over 800 shops and restaurants, many of them in historic buildings from the late 19th and early 20th centuries. A large, modern 12 screen movie theatre complex gives the downtown a major entertainment option. Central Park is considered to be San Mateo's signature park with tennis courts, picnic areas, playground, a baseball field, a recreation center, a miniature train, and a Japanese Tea Garden. Caltrain operates a large train station in downtown. The downtown is also home to many large and small multistory office buildings, apartments, government buildings and Mills Medical Center making the area a busy employment center day and night.
San Mateo maintains more than 15 parks scattered throughout of the city. Central Park is considered to be the city's main park and hosts many community park functions which serve downtown residents. It also has a Japanese Tea Garden, a Rose Garden, and a Mini Train. Beresford Park is another large park which offers bocce ball as well as a skate plaza. Martin Luther King Jr Park and Joinville Park both offer swimming pools while Ryder Park boasts a water play structure. Parkside Aquatic Park located on the San Francisco Bay has beach swimming and volleyball. Many of these parks contain picnic areas with grills, children's play areas, basketball and tennis courts, and baseball diamonds. Coyote Point Park is also in San Mateo near the border with Burlingame and on the San Francisco Bay. It is a 670 acre regional county park known for it's ideal location for windsurfing and sailing. It is also home to CuriOdyssey which is a hands on science museum and small native animal zoo.
The San Mateo Performing Arts Center, located on San Mateo High School, is one of the largest theatres on the peninsula outside of San Francisco. The College of San Mateo is also located here and is home to radio station KCSM. The city is also home to the Bridgepointe and Hillsdale shopping centers. Bay Meadows horse-racing track was torn down in 2008. The Japanese Tea Garden and San Mateo Arboretum in Central Park, San Mateo, CA Central Parkare of interest. U.S. Route 101, Interstate 280, and State Route 92 pass through San Mateo. One of its sister cities is Toyonaka, Japan, for which the Japanese Tea Garden at Central Park was created to commemorate.
companion care
medication reminders
social worker
family members
senior home care provider
care home
san francisco bay area
san francisco bay area
senior care services
home care assistance
home care assistance
home health aides
home supportive services
individual needs
comfort of their own home
daily activities
medical care
home care agency
redwood city
redwood city
great job
san mateo area
family caregivers
care plan
respite care
quality care
quality of life
state of california
light housekeeping
peace of mind
best home care options
chronic diseases
surrounding area
new resident
extra help
san francisco area
san francisco area
city of san mateo
registered nurse
skilled nursing facilities
retirement communities
compassionate care
big part
brookside skilled nursing hospital
exceptional care
zip code
difficult process
palliative care
dementia care
memory care
daly city
daly city
social services
social services
adult day care
adult day care
older people
san mateo medical center
medical needs
sugarloaf mountain
palo alto
san bruno
san bruno
half moon bay
contra costa
physical activities
national council
household chores
mental health
national averages
medical home care
alameda county
san mateo clients
general information
general information
recreation department
difficult time
comprehensive web
care professionals
elder care services
elder care services
elderly care
elderly care
closest city
united states
nearest city
cost of care survey
grocery shopping
weekly basi